gang uni yang sporting. Lepas exam awok2 release tension lah kan..
Assalamualaiku, fuh.. baru elepasi tempoh-tempoh kegentingan dimana, kepadatan jadual tugasan seharian membuatkan aku ketinggalan dalam eng update entri. Yer takda yang sudi membaca selain "silent reader" dan friendslist yang aku tau diorang lah yang setia meninggalkan jejak di setiap entri terbaru. Last 3 weeks aku dah berjaya enamatkan minggu peperiksaan akhir dengan jayanya. Tapi SELAMAT belom tentu,2 minggu akan keluar result so Wish me LUCK ok.
Ok kali ni aku nak review pasal Filem Aksi Komedi dari Filem "The Man From U.N.C.L.E" memfokuskan kepada dua orang agen rahsia Amerika dan USSR, masing-masing bernama Napoleon Solo dan Illya Kuryakin yang pada awalnya merupakan musuh, tetapi kemudiannya ditugaskan bersama untuk menyiasat pembangunan senjata nuklear oleh organisasi penjenayah gelap.Mereka yang pada awalnya mush terpaksa mengetepikan permusuhan mereka untuk bekerjasama dalam menumpaskan organisasi tersebut dengan bantuan gadis Jerman Timur bernama Gaby. Pelbagai rintangan dihadapi mereka dalam usaha menyelamatkan keadaan.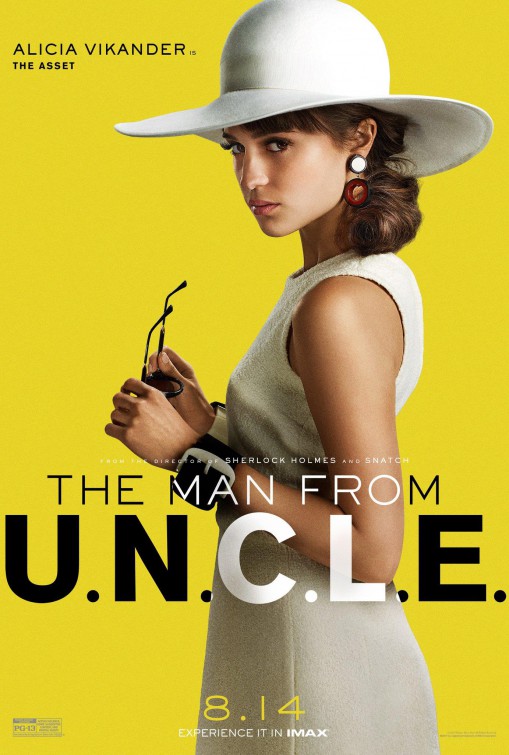 Alicia ni comel giler.. kecik molek je orang dia. Gaya tak tahan..giler-giler mereng je.
Jalan cerita filem ini sangat ringkas dan mudah difahami. Ditambah dengan lawak jenaka yang bersahaja, ia sememangnya sebuah filem yang menghiburkan. Walaubagaimanapun, sesetengah lawak jenakanya memerlukan pengetahuan am mengenai perkara yang berlaku pada zaman perang dingin. Sesetengah lawak jenakanya juga mempunyai gaya unik British yang mungkin kurang difahami ramai, terutamanya dengan kemunculan Hugh Grant sebagai Waverly.
Henry Cavill dan Armie Hammer (melting kat mamat Armie ni, memula tengok macam biasa-biasa je.. end up eh..eh.. acam cute acam gentleman sangat caring habis) Baran tapi romantik eh..eh macam..
Babak-babak aksinya tidaklah sehebat filem James Bond, namun cukup menghiburkan bagi penonton yang sememangnya berminat dalam filem aksi komedi.
P/s : aku bagi 8/10 untuk jalan cerita dan isi cerita memandangkan ada diantara babak macam stress jugak nak paham.. sebabnya takpaham kenapa the end of story si Armie ni tak bercinta lak dengan si Alicia tu. tapi jadi satu team penyiasat lak.. huhu.. Tapi kalau di ajak sekali lagi untuk tonton aku nak repeat kot sebab leh tatap si Armie ni lama-lama hahahah.